Central States Benefit Horse Show is always a favorite for THF. Why, do you ask? Our answer would likely be because the show facility is fully air-conditioned. This is certainly welcome for a show at the end of July!
Our 2nd show of the year was another fun and successful one with reappearances of proven teams and debuts of new ones.
There are a couple of fresh faces that we're especially excited about. This past March, there was a dispersal sale of Reedannland Farm, owned by the late Dr. Alan and Dotty Raun. Over 50 horses went through the sale, and the Van Zomeren's purchased 2 very exciting 3-year-olds: a bay filly and a flaxen-maned colt. After a few months of training, the colts made their show ring debut under the THF banner.
Renae showed the bay filly, Reedann's Count the Clues (nicknamed "Becky" after one of the Raun daughters), in a walk/trot/canter training class. Once Becky hit the show ring, she instantly became the show horse she was meant to be. Renae did a wonderful job of navigating this young horse in her show ring debut – earning them a blue ribbon.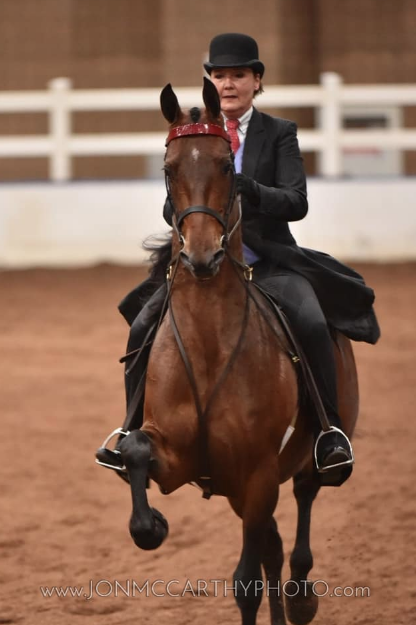 Mark expertly rode the powerful flaxen colt, Reedann's Desperado (AKA "Raun", named for the Raun family), in a walk/trot training class. Like Becky, Raun turned on when he entered the ring and put on a thrilling performance to also earn a blue ribbon. We are overjoyed to have these young horses, and we hope Dr. Raun would be proud!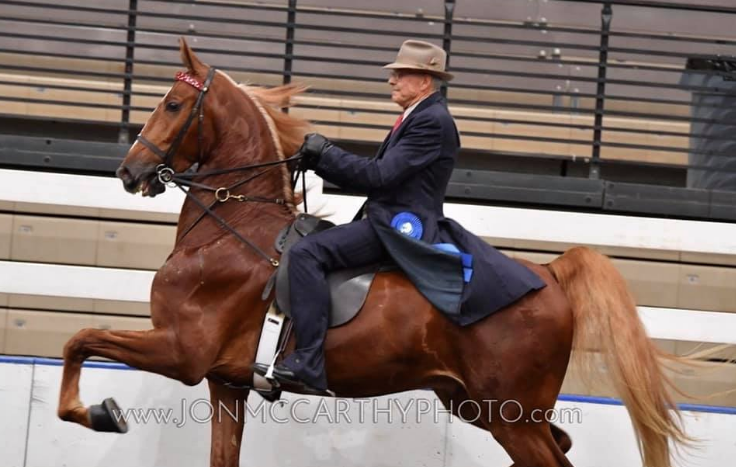 Another new team was Sydney Robbins and The Majestic Lady. "Lady", who is 15-years young and one of Mark's all-time favorite horses, was recently pulled out of the broodmare pasture and put into training again. Lady certainly proved to us that she is still the show horse she's always been, and earned a championship win in adult show pleasure with Sydney skillfully guiding her.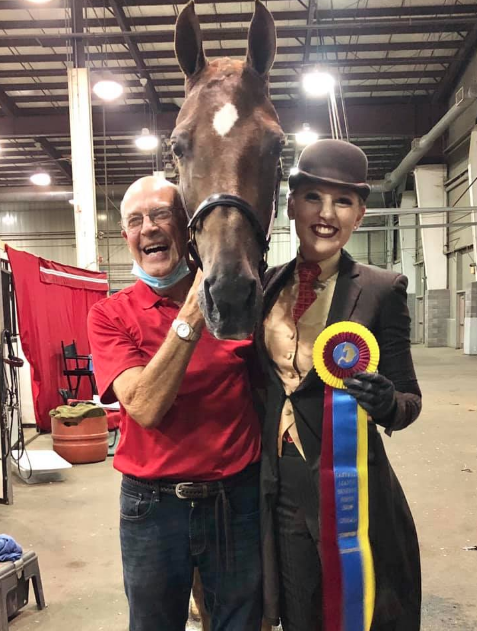 Abby and Ichabod wowed us all with some incredible equitation performances as well. We are so proud of how this pair has come together as a team! They have such a powerful look and execute near-perfect patterns. A highlight was a reserve champion finish in a field of strong riders in the equitation championship.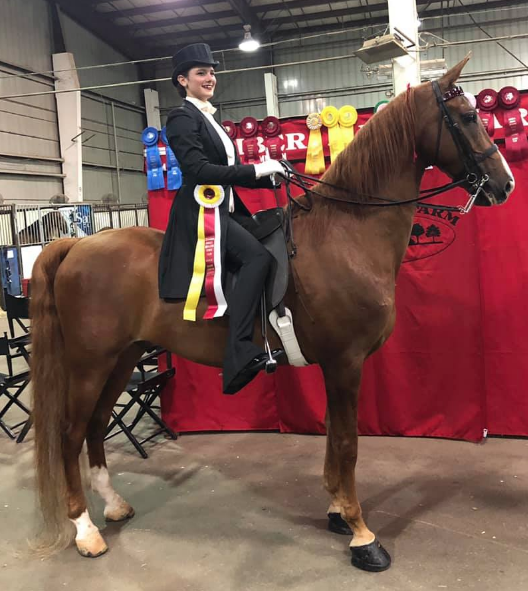 The Kanises gave some strong rides as well. Zeb completed his first 2 patterns on Moon at a show (ever!!) and showed good horsemanship. Even though this was only our 2nd show of the year, we definitely see this team making progress!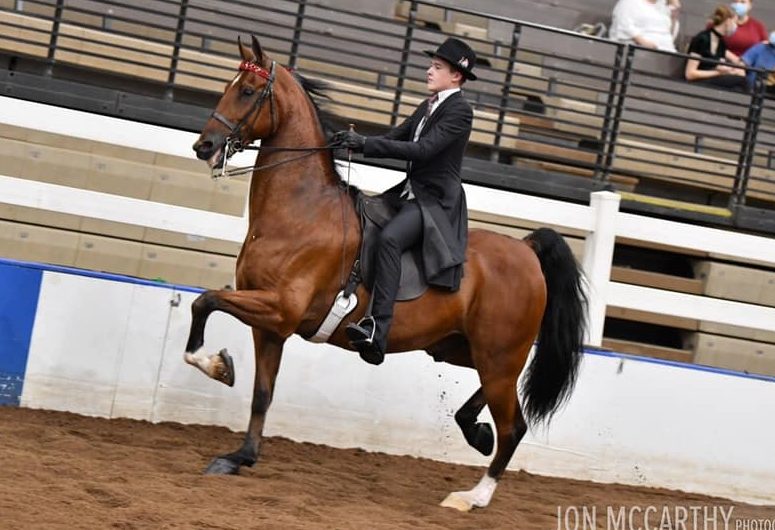 Moon had more firsts with his "other kid", Kenzie. This was Kenzie's first time showing Moon at a big show like this, and they performed wonderfully. A highlight was a blue ribbon win in walk/trot 12-&-under show pleasure.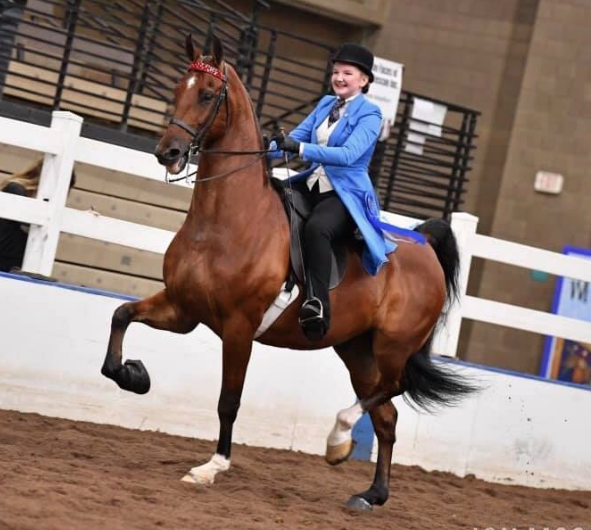 Jess & Corgi did us proud again at Central States – they are such a team! The epitome of smooth & well-mannered. They even earned a strong reserve ribbon in a large, tough class.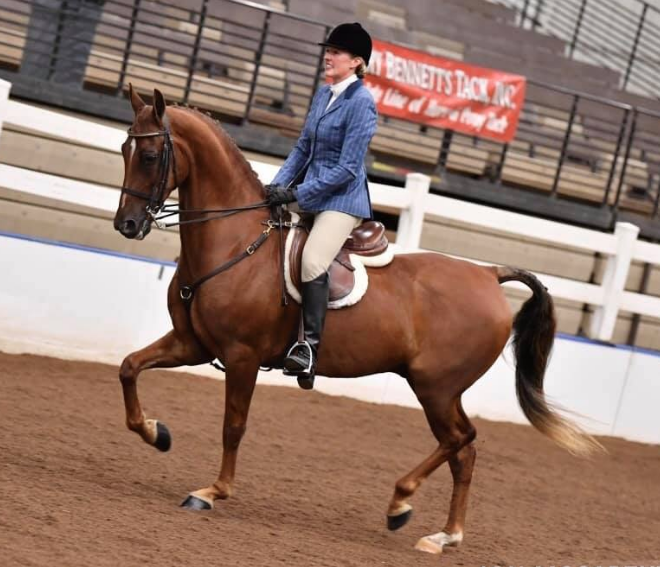 We were also very proud of our academy riders at Central States! This was the first show of the year for most of them, & they handled the pressure of competition very well. We've learned that oftentimes, the lessons you learn competing in the show ring are also important life lessons. & these girls rose to the occasion very well.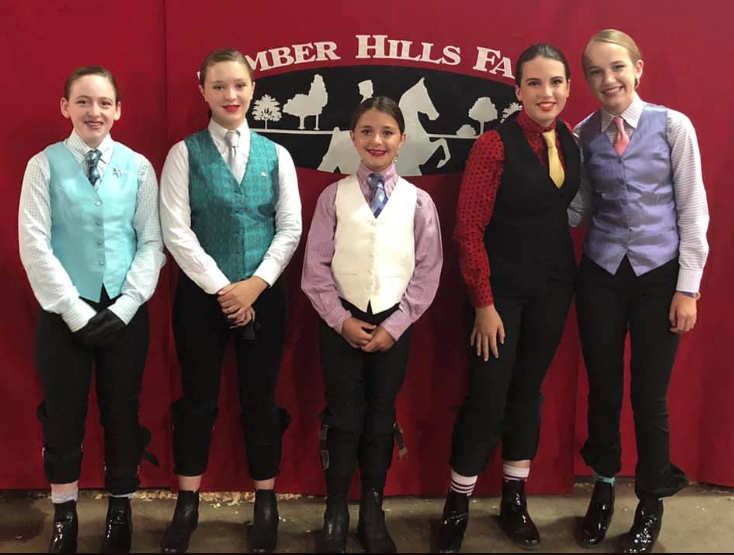 This year, the air-conditioned environment wasn't the thing that made us most happy: it was the performances of our horses and riders. We're proud of how everyone stepped up and gave their best. Now, onto the next show!