Current Horses For Sale

Sunset's Flying Kiss #150896M ("Penny")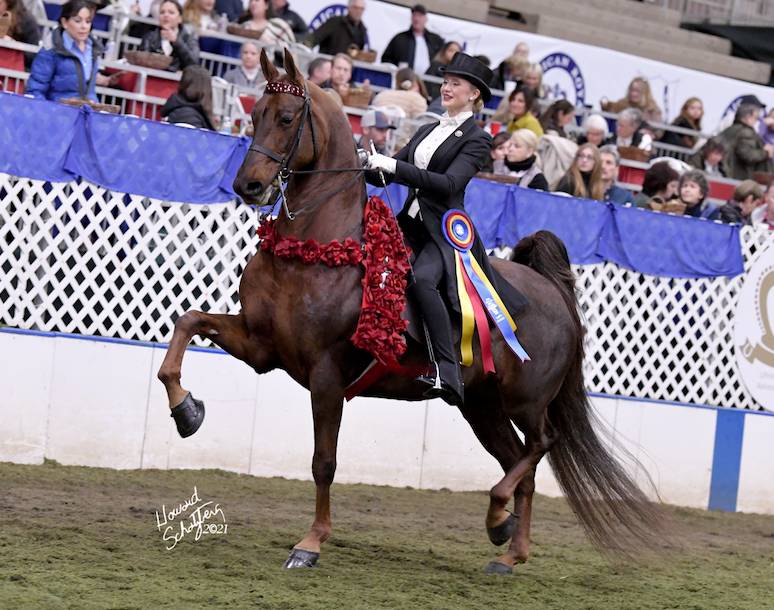 This gorgeous 9 year old mare's show record speaks for itself. In 2021, "Penny" won the American Royal Senior Equitation National Championship. She also earned the MHSA Medallion in the same year. In 2020, Penny won the Reserve World's Champion of Champions title in the Junior Equitation division and a top 3 finish in the UPHA Junior Challenge Cup. She is an owner and trainer's dream with her sweet and willing-to-please attitude, along with having an expressive presence in the show ring. Penny is safe and sound, & few are more precise at patterns than her. Let this star of a mare make your dreams come true!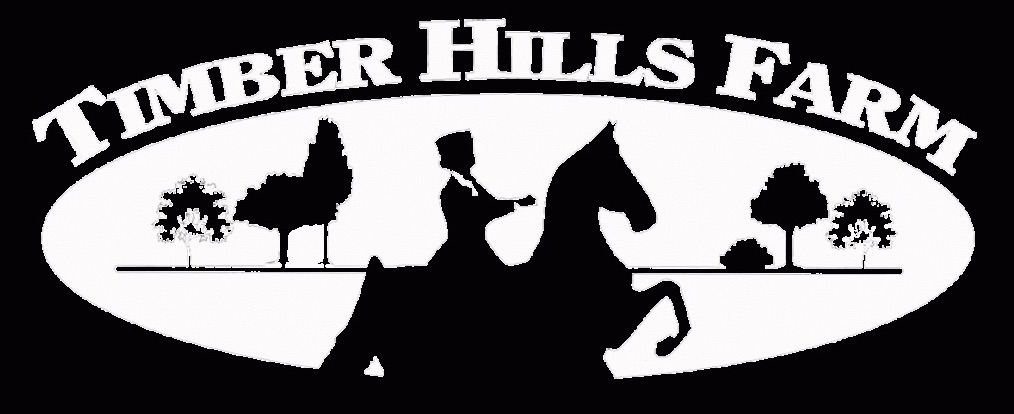 Please contact Timber Hills Farm for additional details on our horses for sale. We welcome you to our barn for a "test drive" on your next horse.
---
Recently SOLD!
These Champions were sold by Timber Hills Farm. We look forward to seeing you in the ring!
---
Mozart's Crescendo #126498 ("Mo")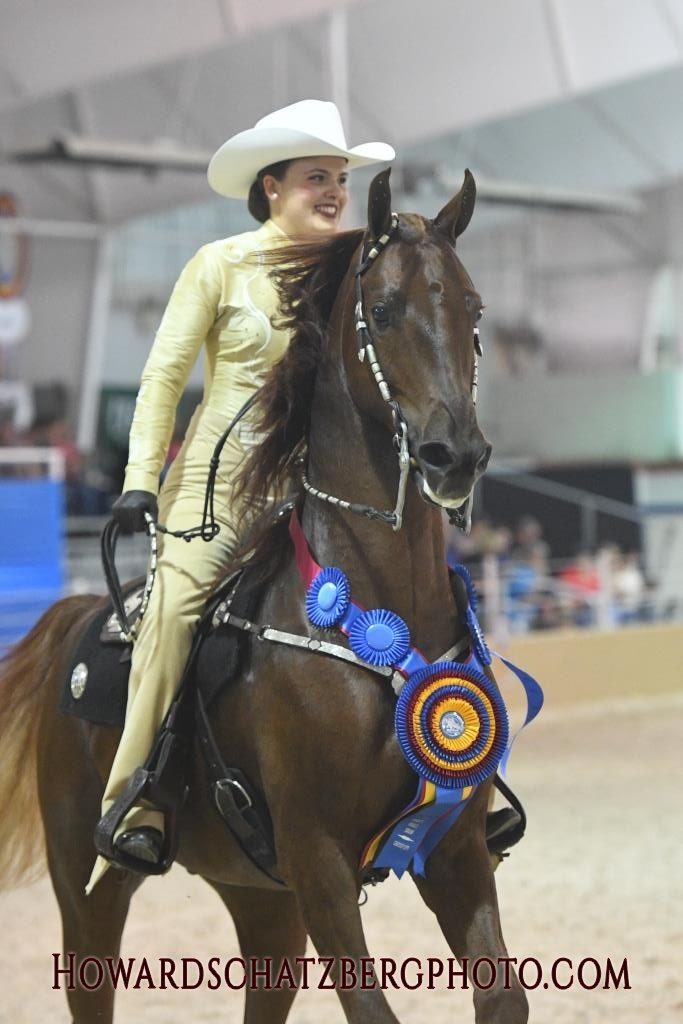 Congrats to Kathy Humphries on the selection of "Mo" for the western division! We are so excited for you to love this gentle giant as much as we have. We'll be your biggest supporters!
Beau & Heirrow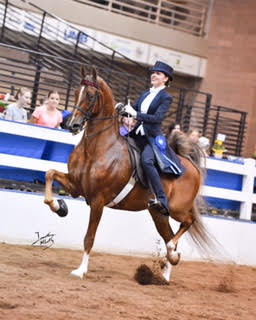 A big congrats to Archie Hurst of Cloverleaf Equestrian Center, Alberta, Canada, on the the acquisition of "Willis!" We wish you the best with this lovely gelding!
Sunset's Flying Kiss ("Penny")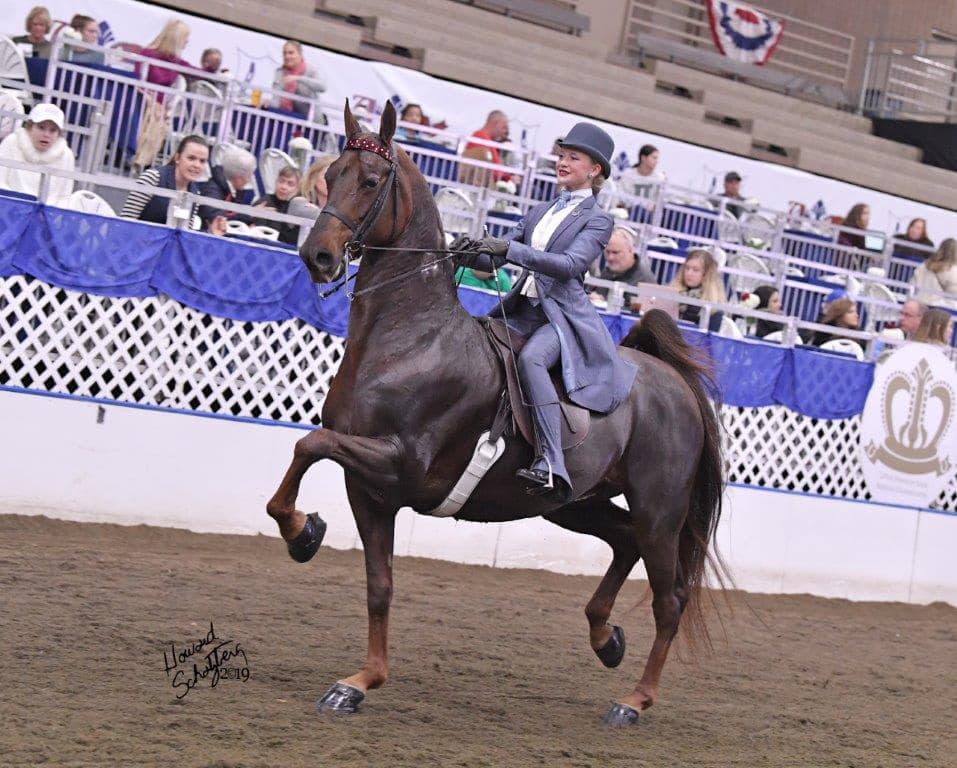 Congratulations to the DeRonde family on their selection of "Penny" for their daughter, Gracie. After some exciting catch-rides in 2019, we look forward to future ones in 2020 and beyond!
Miles of Style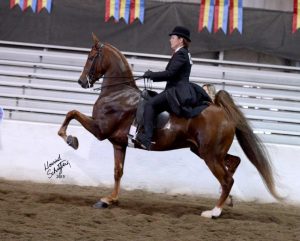 A huge congratulations to Laura Howard Strong on the purchase of Miles of Style during the St. Louis Charity Show! Strong fit "Stuart" perfectly and will make a wonderful team. Mike Roberts Stables acted as the agent for Laura. Timber Hills Farm were the agent/trainer for Ed Rhoads and Deborah Waterman. We wish you all the best of fun and success with this sweet boy, with his gutsy show horse ways! Congratulations from Timber Hills Farm!
Night of Secrets ("Moon")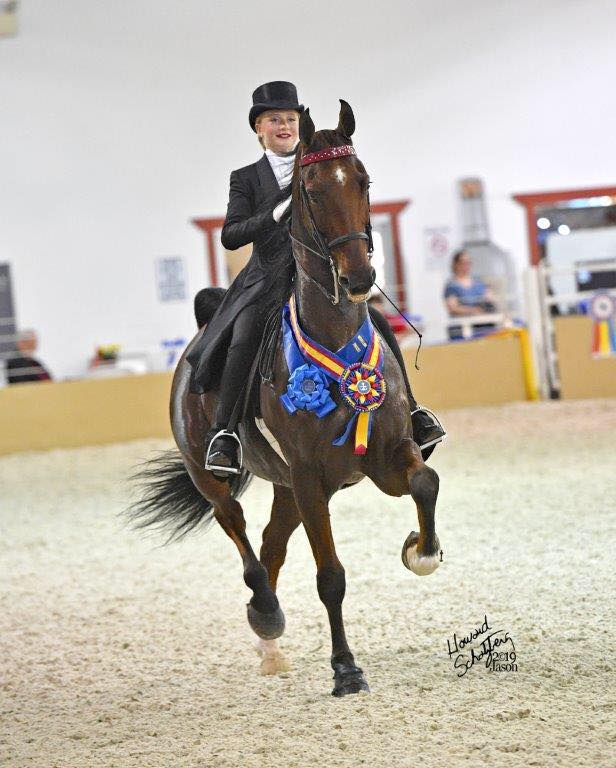 A huge congratulations to the Kanis family on their purchase of "Moon." We look forward to seeing him in the ring with Zeb, Kenzie, and Jess in 2020!
CH-EQ Heirronic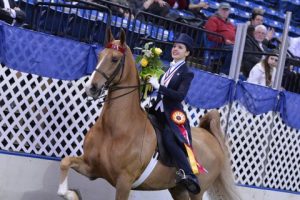 Congratulations to the Rainbolt-Forbes family on the purchase of the incredibly talented equitation mount CH-EQ Heirronic. "Wessel" was owned by the Timber Hills Farm and Delovely Farms will take over the training on this grand horse. Best of luck to Caroline Rainbolt-Forbes in Pleasure Equitation in 2014.
Frenzied ("Zeke")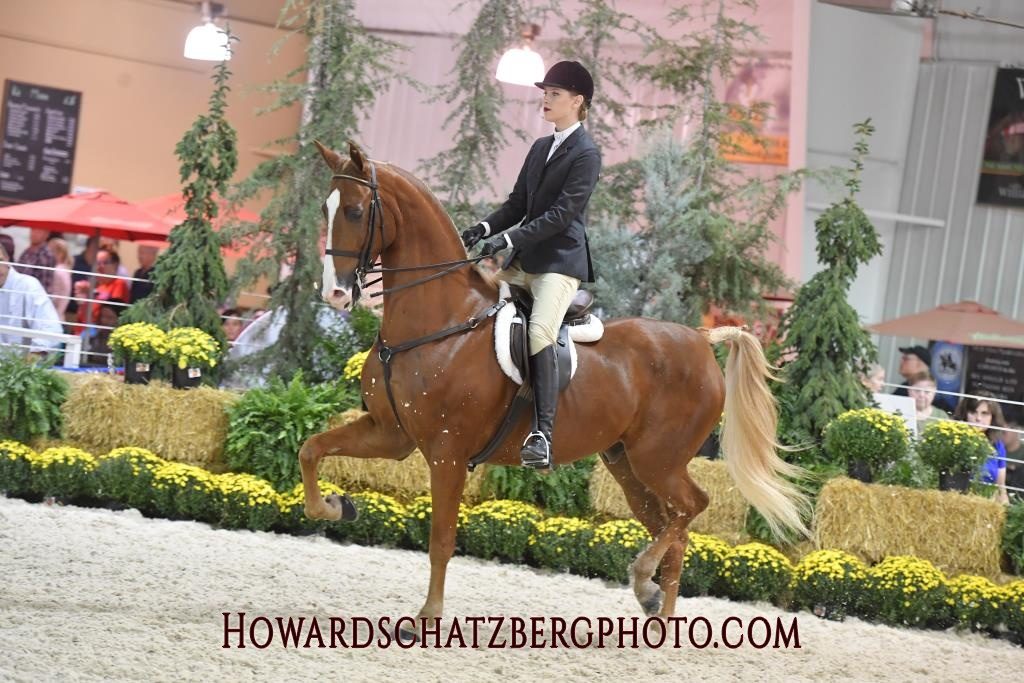 Congrats and applause to Jackie Schimke on the purchase of Frenzied for her daughter Kaitlin. They hit it off instantly when she rode him the first time. Receiving trainer is Shalene Neuberger. We wish them the best of fun and success!
High in the Heir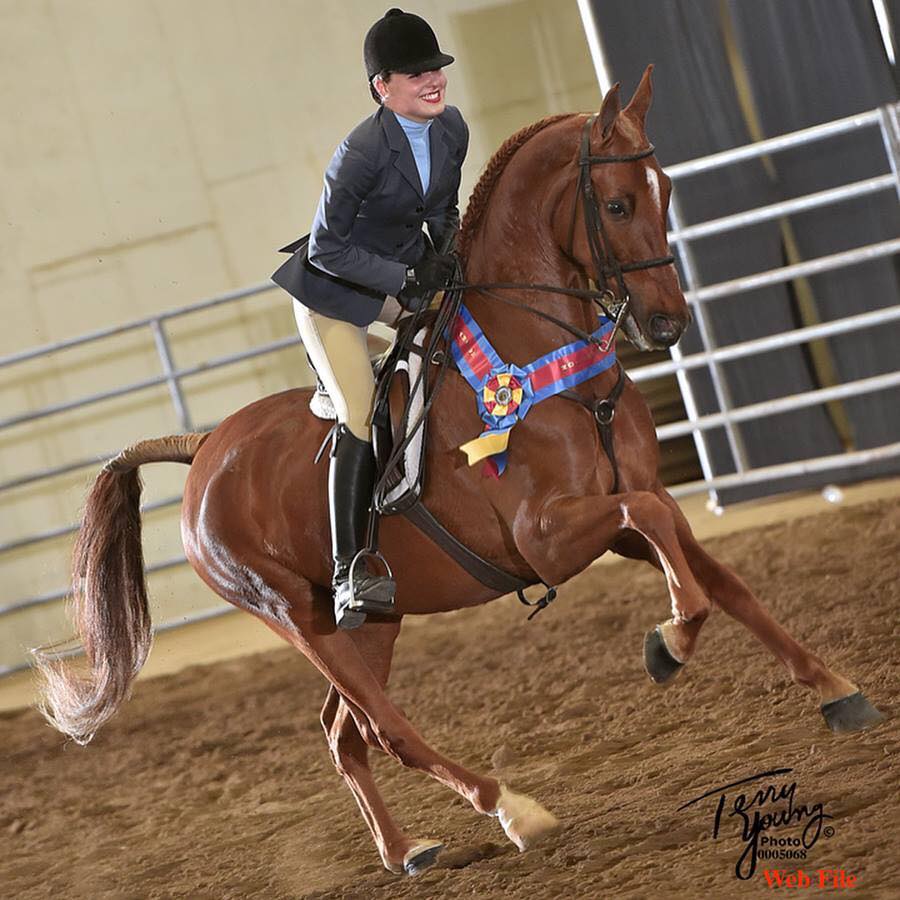 Congratulations to THF's Kanis family on the purchase of "Corgi." We are so excited to see him continue his success with you!
Born to Charm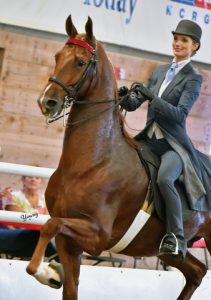 A warm congratulations to Jennifer and Jerry Smith on the purchase of Born to Charm for their daughters Olivia and Giavanna to show. Ryan and Vanessa Alexander, Emerald Hills Farm, acted as agents for this family. "Ollie" can now enjoy the different climate of Arizona and two lovely young girls to call his own.
The Crescendo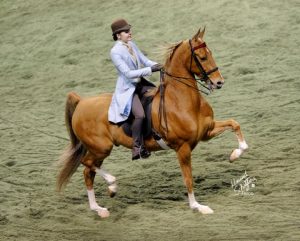 Congratulations to Vincent and Melinda Provenzano on the selection of The Crescendo for their young daughter Mia to show and love on. Martha Hoyt of Palos Hills Stables acted as agent for this first time horse family. "Ernie" is one of Timber Hills Farm's beloved home bred and trained horses, so we are so delighted that "Ernie" has his own child now. We are so proud of him and wish him and his girl Mia the very best!
Kamunyak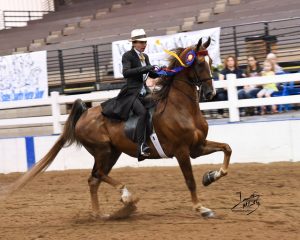 Congratulations to Charles Hoffmann on the selection of Kamunyak for their daughter CeCe. Jonelle Chovanec is their trainer and agent. Garry and David Stelljes, former owners, along with Timber Hills Farm, wish CeCe huge success in her final year in pleasure equitation!
The Last Shot

Congratulations to Lily Darsey on the selection of The Last Shot. Southern Legacy Stables will be the new home for Pistol, with Caitlin Jarriel training for the new team. Pistol is very excited about her new little girl and wintering in Georgia!
CH Like Sunshine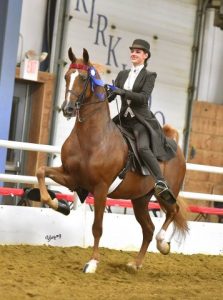 Congratulations to Julie Greenbaum Belgrad on the purchase of this lovely mare for her daughter. Agents were Ryan and Vanessa Alexander. Mark and Renae Van Zomeren were agents for former owners Ed Rhoads and Deborah Waterman of Ohio. Many members of Timber Hills Farm have expressed how "Sunshine" will be missed.
Three Card Monte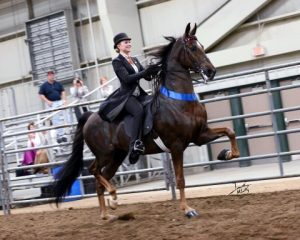 Congratulations from Sandra and Lauren Comer on the purchase of Three Card Monte by Susan Peer and Joann Mayor. Agent for the purchase was Louw Stables, Van Meter Iowa.
Monnington's Mr. Darcy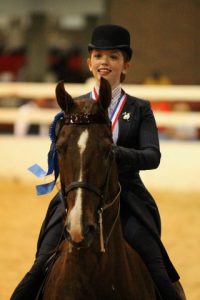 Congratulations to the Monnington Farm, Simpsonville, KY on the purchase of Monnington's Mr. Darcy from former owners Haley and Deb Sturges.
CH May Issue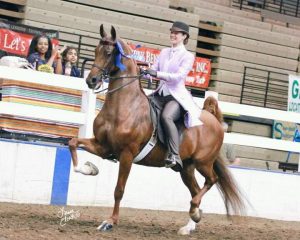 Congratulations to Mickey Chainski, Chicago, on the purchase of the beloved WC CH May Issue for her god-daughter Maggie Podell. "Ellie" is a once in a lifetime horse! Former owners were Kristen Dull and Jennifer Nelson of Midwest Saddleseat Consignment Apparel.
CH-EQ Final Act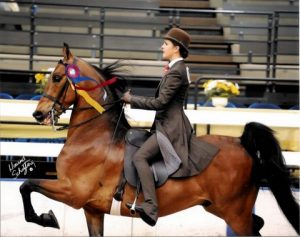 Congratulations to Raymond and Lillian Shively on the purchase of CH-EQ Final Act for Macey Miles to show in Equitation. Former owners of this grand horse was Timber Hills Farm.